Micro Soldering Repair Training
This is the basic skill for a show you the tips and techniques of the skills involved with your mobile phone repair jobs today will going over the basic and advanced skills of Micro soldering. There are many kinds of mobile phone circuit soldering, but this article is designed to teach you the basics to advance smartphone and iPhone logical broad soldering. most repairs require you to have basic tools like a screwdriver or a sponge and others might involve more exciting tools like a soldering iron.
Now Review the Tools for Soldering Microelectronic Components
Soldering Iron:
A soldering iron is a pen-shaped fine tip that heats up. one of the ways soldering irons is measured in the electrical and electronic market by is wattage. for laptop and smartphone electronics components work, a low-power iron 35 watts is used. Some irons are temperature-controlled, running at a fixed temperature in the same way as a soldering station. For most basic soldering, a 35 Watt soldering iron will work without any problems. but it is also possible to buy advanced solder stations where you can set the tip temperature with a dial or knob.
soldering iron tips amazon
Iron Tip:
Most electronics soldering iron and soldering station have interchangeable tips, the iron tip is also known as the bit.
also known as the bit
Apart from Micro soldering tools, you may also need few other tools like sponge, iron stand, safety goggles, PCB holder, solder wire rosin core, desoldering wick remover wire and soldering flux paste.
how can you actually use this?
iron cleaning tool




Iron Stand: A soldering iron stand is used to keeps the hot iron tip away from burning flammable materials when you set the soldering iron down after soldering. iron stand purchased separately with 30 to 40watts soldering irons, but most budget higher end soldering models include the iron stand.
purchase separate




Safety Goggles: Especially if you're the beginner, you should be wearing safety goggles
safety goggles amazon




PCB Holder:
Suitable for fixed maintenance of smartphone circuit board and small essential for mobile phone maintenance easy to use, make your repairing work smoothly.
maintenance circuit well




Solder Wire Rosin Core:
For a good solder joint between two components, you need the best quality of solder wire. solder wires are available in different diameters.solder wire rosin core is the most common and widely used solder wire.
solder joint between components




Soldering Flux Paste:
Apply a best quality solder flux on the area of the leads of microelectronic components to be soldered. soldering flux paste will help to remove any deposited oxides from the surface of the microelectronic metals thus leading to better solder joints.
try better-sold joints




what is soldering and why we do it?the best answer
best definition
Soldering is a method of connecting electronic component and its copper print on a PCB together by melting another filler metal in between them.Why would you need to join two copper layers together? Typically the common uses of solder are when a copper wire or component print gets cut and needs to be "fused" jumper back into the circuit.
Cleaning: When the iron tip burnt flux accumulated on it, solder no longer wets the iron tip,
flux on solder wire don't get wet
then impending heat transfer and making soldering SMD components with soldering iron difficult or impossible.
iron tips problems
the tip must be periodically cleaned when using. Such problems happen with all kinds of soldering iron tips, A wetted water sponge or cotton can be used to wipe the tip for more aggressive cleaning
move the tip at a sponge
Iron Tip Care and Maintenance:
For soldering iron coated with a thin of solder.
care thin of solder




allow iron for transfer the heat to the workpiece on the PCB.This procedure is called iron tip tinning.
solder iron tip works fine
Desoldering Wick Remover Wire:
Desoldering wick wire is used to remove excess solder from the component tracks and mobile phone PCB.Wick Remover Desoldering Braid Wire is also used for Suck solder form BGA iC prints.
Hand Soldering and Micro Soldering Just Arrived Information
practical guide
Hand soldering is done for repairing of faulty mobile printed circuit boards and components. sometimes repairing and replacement of SMD components is also done by hand in mobile repairing jobs.hand soldering basic is done during PCB rework in a production unit when a smartphone PCB gets smash crash damage.by hand, soldering is also done for repairing and servicing printed circuit boards by the mobile technician. hand soldering is useful when replacing components on PCB with other PCB.
what they do
Smartphone and iPhone basic electronic: Smartphone motherboards, tablet, Mac, iPod, iPad, and iPhone logical boards are filled with basic electronic components, many of these components such as coils, resistors, capacitors, and FPC, LVDS connectors are specification different models and brands. sometimes those components get failed due to water damage or phone dropped by the customer's basic electronic get disconnect from the copper prints.When these components disconnected from the iPhone logical broad or have been damaged by the user then you will need to perform micro soldering repairs.
Demonstrate how to sold micro components with the soldering iron: Make sure the soldering iron is hot. Do not touch it. Hold the soldering iron properly in one hand and component on the other hand with the help of tweezer. Maintain proper angle between component and PCB. by joining two surfaces allows the DC current to flow from one component to another microelectronic by print. Place the component at the copper track on the PCB with the help of the tweezer.
works quickly
Apply heat where the lead of the component meets the copper track on the PCB. and hold the component with the tweezer.
step two
use solder wire if needs.
step three
Flux and Solder Paste Residue Remover for Smartphone PCB and BGA Repairing :
when you finish soldering, do you find there is solder flux residue on the PCB? The flux residue is not easy to remove by brush. It is important to buy best quality PCB cleaner liquid as poor quality cleaners can damage the board prints.
micro soldering flux
Anti Static ESD Brush for Cleaning Mobile Phone Tablet PCB BGA Repair Soldering: Antistatic brush is best for cleaning all Dusting and Dirt form sensitive components and FPC connector with safely. suitable for cleaning, washing and removes any liquid from the surface of iPhone and Samsung mobile phone PCB.The brush cleans those areas which are hard to reach in PCB, with its long handle and soft hair brush are easy to use.
Cleaning Mobile Tablet PCB
that's not all...
You can also use soldering tweezers iron an advanced tool for soldering, resoldering basic electronics

For soldering and desoldering small surface-mount components like resistors, polar or non-polar capacitors, and Zener diodes, tweezer style soldering iron can be used, with two terminals and free-standing or controlled from a soldering station. soldering tweezers iron is also called tweezer soldering iron SMD. The tweezers have two heated tips applied to the two ends of the PCB component. The main purpose of the soldering tweezers is to melt solder around the components.in this new era of smartphone repairing at your mobile repair shop, you need to perform micro soldering repairs at the microscopic level.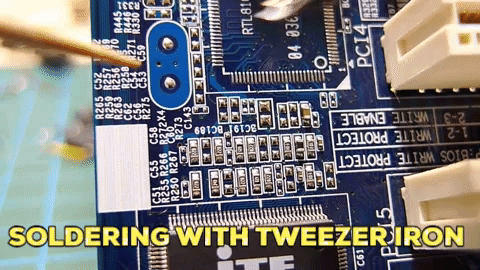 tweezer soldering iron
remember one thing the best solder joint should look shiny. the backlight fuse is a commonly replaced component in every single Apple motherboard backlight fault. SMT (Surface Mount Technology) IC soldering method is different. the solder joint quality depends on the soldering tools you used. The better the quality of tools the better you get a result, the better will be the life and performance of the smartphone after repair.
Micro Soldering For iPhone Cell Phone Mobile SMT Repair Right Now
With the latest tools and the right knowledge, it is possible to repair costly iPhone, Samsung, and tablet motherboards at the component and chip level. This process is called "micro soldering" Once you are ready with all the tools needed for Micro soldering, you are ready to start the iPhone repair job.
micro soldering training




iPhone Board Level Repair: So, what does it take to learn hand soldering microelectronics and component level repair? The best place to start is with the micro soldering flux and soldering micro resistor. start by making sure the iPhone logical broad and the leads of the components are clean and free from any dust or grease. microelectronic components which are not clean may have deposited oxides that can lead to the bad solder joints.
micro soldering flux clean microelectronic
What is Micro Soldering Jobs?
soldering micro circuits

advance level
During your repair process, you would perform an initial examination of the device motherboard, inspect for damage externally, then proceed to view the board with the components under a microscope to see problems.anything repaired and soldered under a microscope would be also considered "micro soldering jobs". the iPhone logical broad components and IC's get to a smaller size often times a soldering on micro circuits is needed, typically working with the smaller components using standard tools is very difficult. you can't learn to solder all microelectronics without a microscopic. In this article, we will go over choosing a best microscopic and tweezers iron, as well as everything else you will need to learn micro soldering jobs and take your smartphone repair business to the next level.let's suppose you are earning an average $70 per repair on a cell phone and you do 10 FP(feature phone) repairs each week, that's revenues of $700 weekly. when you do SP(smartphone) repairing you can earn an average $90 per repair on a smartphone, tablet, Mac, iPad, iPod, and iPhone logical boards by micro soldering repair. your weekly business revenue percentage can increase 100%
hand soldering micro electronics
Microscope with Magnifier: Microscope used to see a magnified view of Device PCB, FPC connectors or microelectronic components.with the microscope can easily see and work with iPhone and other smartphone motherboards, generally, eyepieces provide with the microscope to see the magnification. magnifier available in different zoom options. the best quality microscope eyepieces can be swapped for higher or lower magnification.There are different attachable light sources available for a microscope as well.Ring lights source can attach to the bottom of the microscope and provide lighting around the workspace.
microscope smartphone magnification view
you can add a camera to your microscope. the camera is a great way to showing customers exactly what sort of repairs need to be made on there smartphone circuit as well as teach other technicians logic board level repair.The most important feature of the microscope is the glass.microscopes can be connected to a computer LED.
camera view feature
you can found sharpest and clearest view form Amscope and Nikon lenses.In practice, the scope it's fine for all smartphone mortherboard micro soldering work I've done.
I hope all of the above board level repair step by step picture help was useful enough to explain Micro Soldering Repair. If you have any question then feel free to ask via comments below
Read more ...