mobile repair tool list
Watch Gif animation on
Mobile Tools and Equipment
If you already have a hot air gun for mobile repair and don't know how to do soldering work on Samsung motherboards read
hot air gun mobile repairing
blog post
rosin core solder
solder wick


Hand Soldering and Micro Soldering Training






Flux and Solder Paste Residue Remover for Smartphone PCB and BGA Repairing:

when you finish soldering, do you find there is solder flux residue on the PCB? The flux residue is not easy to remove by brush. It is important to buy the best quality PCB cleaner liquid as poor quality cleaners can damage the board prints.
micro soldering flux
Anti Static ESD Brush for Cleaning Mobile Phone Tablet PCB BGA Repair Soldering:
Antistatic brush
is best for cleaning all Dusting and Dirt from sensitive components and FPC connectors safely. suitable for cleaning, washing, and removing any liquid from the surface of iPhone and Samsung mobile phone PCB. The brush cleans those areas which are hard to reach in PCB, with its long handle and soft hair brush that are easy to use.
Cleaning Mobile Tablet PCB
that's not all...
You can also use soldering tweezers iron an advanced tool for soldering, resoldering basic electronics
For soldering and desoldering small surface-mount components like resistors, polar or non-polar capacitors, and Zener diodes, tweezer-style soldering iron can be used, with two terminals and free-standing or controlled from a soldering station.
soldering tweezers iron
is also called tweezer soldering iron SMD. The tweezers have two heated tips applied to the two ends of the PCB component. The main purpose of the soldering tweezers is to melt solder around the components. in this new era of smartphone repairing at your mobile repair shop, you need to perform micro soldering repairs at the microscopic level.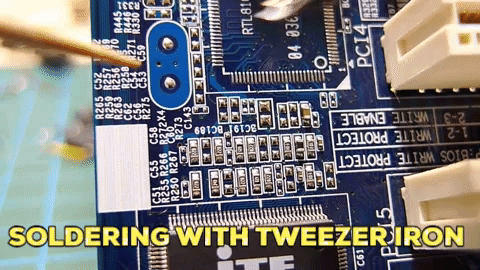 tweezer soldering iron
remember one thing the best solder joint should look shiny. the backlight fuse is a commonly replaced component in every single Apple motherboard backlight fault. SMT (Surface Mount Technology) IC soldering method is different. the solder joint quality depends on the soldering tools you used. The better the quality of tools the better you get a result, and the better will be the life and performance of the smartphone after repair.
Micro Soldering For iPhone Cell Phone Mobile SMT Repair Right Now
With the latest tools and the right knowledge, it is possible to repair costly iPhone, Samsung, and tablet motherboards at the component and chip level. This process is called "micro soldering" Once you are ready with all the tools needed for Micro soldering, you are ready to start the iPhone repair job.
micro soldering training
iPhone Board Level Repair: So, what does it take to learn hand soldering microelectronics and component level repair? The best place to start is with the micro soldering flux and soldering micro resistor. start by making sure the iPhone logical board and the leads of the components are clean and free from any dust or grease. microelectronic components which are not clean may have deposited oxides that can lead to bad solder joints.
micro soldering flux clean microelectronic
What are Micro Soldering Jobs?
During your repair process, you would perform an initial examination of the device motherboard, inspect for damage externally, then proceed to view the board with the components under a microscope to see problems. anything repaired and soldered under a microscope would be also considered "micro soldering jobs". the iPhone's logically broad components and ICs get to a smaller size often times soldering on microcircuits is needed, typically working with the smaller components using standard tools is very difficult. you can't learn to solder all microelectronics without a microscope. In this article, we will go over choosing the best
microscopic
and tweezers iron, as well as everything else you will need to learn micro soldering jobs and take your smartphone repair business to the next level. let's suppose you are earning an average of $70 per repair on a cell phone and you do 10 FP(feature phone) repairs each week, that's revenues of $700 weekly. when you do SP(smartphone) repairing you can earn an average of $90 per repair on a smartphone, tablet, Mac, iPad, iPod, and iPhone logical boards by micro soldering repair equipment. your weekly business revenue percentage can increase by 100%
phone microscope attachment


Microscope with Magnifier:
Microscope
used to see a magnified view of the Device PCB, FPC connectors, or microelectronic components. with the microscope can easily see and work with iPhone and other smartphone motherboards, generally, eyepieces provide the microscope to see the magnification. magnifier available in different zoom options. the best quality
microscope eyepieces
can be swapped for higher or lower magnification. There are different attachable light sources available for a microscope as well.
Ring lights
source can attach to the bottom of the microscope and provide lighting around the workspace.
microscope smartphone magnification view
you can add a camera to your microscope. the camera is a great way to show customers exactly what sort of repairs need to be made on their smartphone circuit as well as teach other technicians logic board level repair. The most important feature of the microscope is the glass. microscopes can be connected to a computer LED.
camera view feature
you can find the sharpest and clearest view from Amscope and Nikon lenses. In practice, the scope it's fine for all smartphone motherboard micro soldering work I've done.

I hope all of the above board-level repair step-by-step picture help was useful enough to explain Micro Soldering Repair. If you have any questions then feel free to ask via the comments below